For multiple and parallel bioreactor systems, our 4-channel and 8-channel sampling systems provide many simple and reliable online monitoring and control solutions for your bioreactor processes. Closed-loop monitoring and control capabilities are easily achieved for any scale of operation or type of bioreactor, including single-use systems.
Overview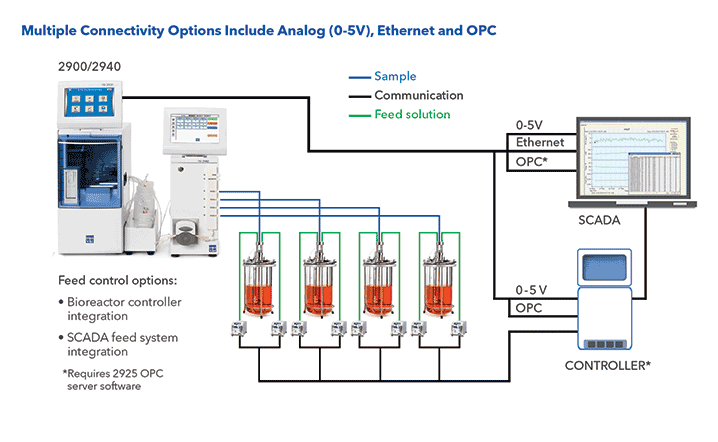 Features
Automated, aseptic sampling of up to 8 vessels
Monitor up to 6 chemistries
Analytical results in 60 seconds for each chemistry
Simultaneous online monitoring and 96-well plate sampling
Automated cleaning cycle
Autoclavable components
CIP and SIP compatible
Touchscreen, icon-driven HMI for easy viewing and menu navigation
Connectivity options for SCADA, DAS, LIMS, and feed-control systems
Remote access and control via web-based server
OPC server option
21 CFR, Part 11 compliant
benefits
Rapid, Accurate, and Interference Free  
The key to generating analyte-specific results in 60 seconds or less is YSI's innovative biosensor technology. Using the inherent specificity of enzymes for a single target analyte, YSI's immobilized enzyme electrodes allow for a rapid, accurate measurement to be made quickly.
Save Time and Money
YSI's proprietary immobilized enzyme electrodes allow for rapid, accurate, and largely interference-free measurement to be made in about a minute. Sample analysis requires little or no preparation due to the YSI Biochemistry Analyzers' unique sample chamber design and membrane characteristics, which makes the enzyme electrode impervious to sample color, pH, turbidity, and other low molecular weight interferences.